I. Agency's mandate and functions; names of its officials with their position and designation, and contact information;

Mandates & Functions
Legal Mandates
Presidential Decree 198 or "The Provincial Water Utilities Act of 1973″ (PD 198)
Sangguniang Bayan Resolution No. 81-49 – "Affirming the Organization of the Lemery Water District" dated August 8, 1981
Purpose and Function
According to Sec. 5 of Title II of PD 198, the purpose of forming a local water district include the following:
(a) acquiring, installing, improving, maintaining and operating water supply and distribution systems for domestic, industrial, municipal and agricultural uses for residents and lands within the boundaries of such districts,
(b) providing, maintaining and operating wastewater collection, treatment and disposal facilities, and
(c) conducting such other functions and operations incidental to water resources development, utilization and disposal within such districts, as are necessary or incidental to said purpose.
CITIZEN'S CHARTER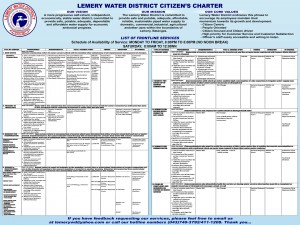 Updated-LEWAD-Citizens-Charter
II. ANNUAL REPORTS
III. FY ANNUAL PROCUREMENT PLANS 
IV. The AGENCY REVIEW AND COMPLIANCE PROCEDURE OF STATEMENTS AND FINANCIAL   DISCLOSURES
V. THE LEWAD's PEOPLES FREEDOM OF INFORMATION (FOI)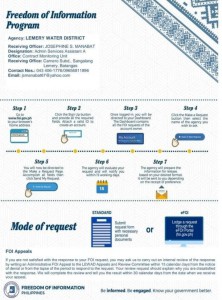 VI.  SALN
VII. CERTIFICATION OF COMPLIANCE
NATIONAL BUDGET CIRCULAR 542

This Circular, issued on August 9, 2012 by the Department of Budget and Management (DBM), reiterates the compliance of all National Government Agencies (NGAs), including State Universities and Colleges (SUCs), Government-Owned and Controlled Corporations (GOCCs), Government Financial Institutions (GFIs), and Local Government Units (LGUs) with Section 93 of the General Appropriations Act of 2012:
Sec. 93. Transparency Seal. To enhance transparency and enforce accountability, all national government agencies shall maintain a transparency seal on their official websites. The transparency seal shall contain the following information:
(i) the agency's mandates and functions, names of its officials with their position and designation, and contact information;
(ii) annual reports, as required under National Budget Circular Nos. 507 and 507-A dated January 31, 2007 and June 12, 2007, respectively, for the last three (3) years;
(iii) their respective approved budgets and corresponding targets immediately upon approval of this Act;
(iv) major programs and projects categorized in accordance with the five key result areas under E.O. No. 43, s. 2011;
(v) the program/projects beneficiaries as identified in the applicable special provisions;
(vi) status of implementation and program/project evaluation and/or assessment reports; and
(vii) annual procurement plan, contracts awarded and the name of contractors/suppliers/consultants.
The respective heads of the agencies shall be responsible for ensuring compliance with this section.